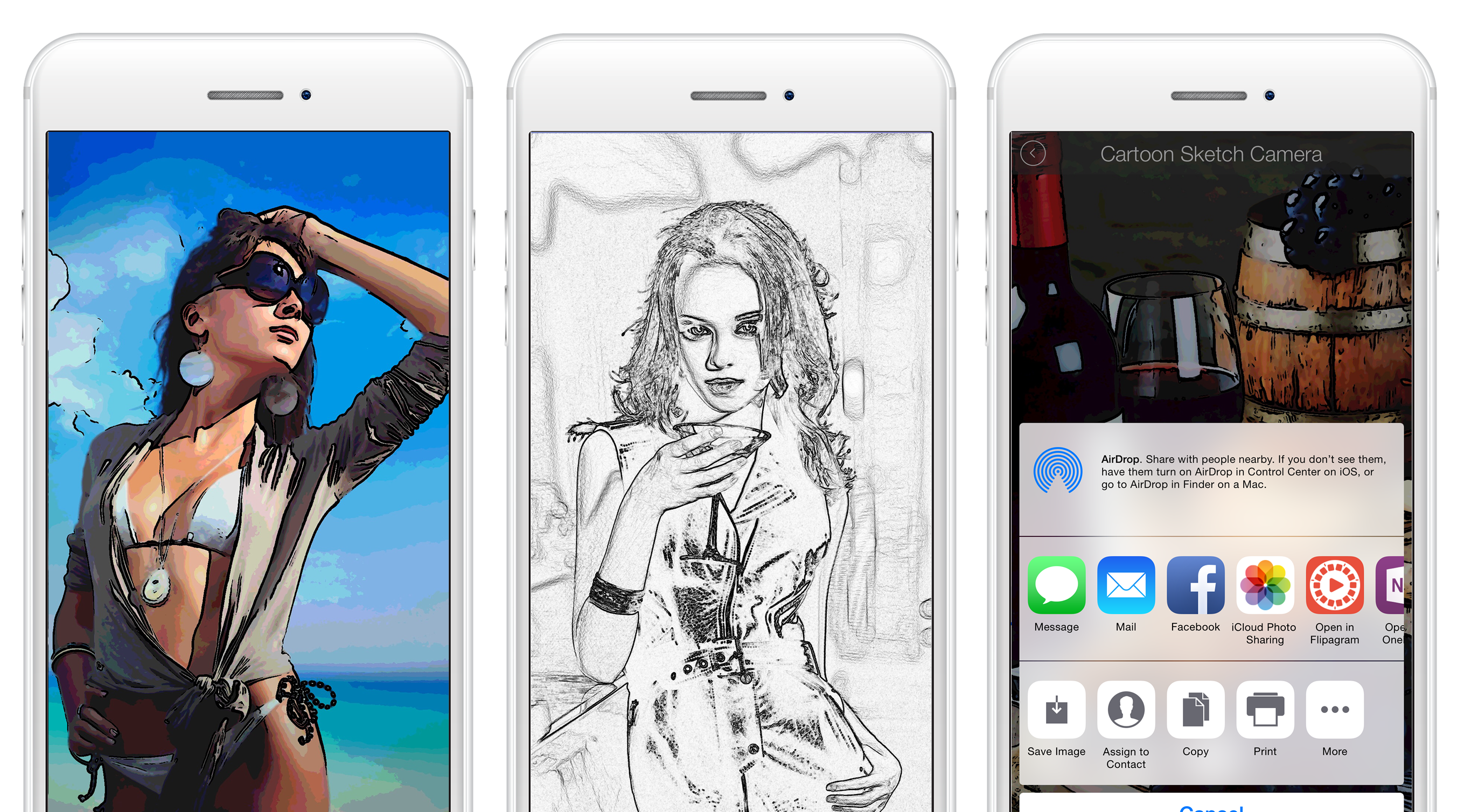 ---
Privacy Policy
*The privacy policy is written in English only.
Personal Information We Collect
When you use the App, we may collect information about you, including:
Photographs, including the faces in the photograph, you provide when you use the App, via your camera or Photo Library(if you have granted us permission to access your camera or Photo Library in your device). We obtain only the specific images you chose to modify using the App; we do not collect any photographs in your photo albums other than those you chose, even if you grant us your access to them.
App usage information, such as information about how you use the App and interact with us, including your preferred language, the date and time when you first installed the App and the date and time you last used the App.
Purchase history, if you choose to purchase an App subscription, such as confirmation that you are a paid subscriber to the App.
Device data, such as your computer and mobile device operating system type and version number, manufacturer and model, device ID, push tokens, Google Advertising ID, Apple ID for Advertising, browser type, screen resolution, IP address (and the associated country in which you are located), the website you visited before visiting our Site; and other information about the device you are using to visit the App.
Online activity data, such as information about your use of and actions on the App and the Sites, including pages or screens you viewed, how long you spent on a page or screen, navigation paths between pages or screens, information about your activity on a page or screen, access times, and length of access. Our service providers and certain third parties (e.g., online advertising networks and their clients) also may collect this type of information over time and across third-party websites and mobile applications. This information may be collected on our Site using cookies, browser web storage (also known as locally stored objects, or "LSOs"), web beacons, and similar technologies. We may collect this information directly or through our use of third-party software development kits ("SDKs"). SDKs may enable third parties to collect information directly from our App.
---
How We Use Your Personal Information
We do not use the photographs you provide when you use the App for any reason other than to provide you with the photo editing functionality of the App. We may use information other than photographs for the following purposes:
To operate and improve the App:
Enable you to use the App's features;
Communicate with you about the App, including by sending you announcements, updates, and security alerts, which we may send through a push notification, and responding to your requests, questions and feedback;
Provide technical support and maintenance for the App; and
Perform statistical analysis about use of the App (including the use of Google Analytics).
To send you marketing and promotional communications. We may send you marketing communications as permitted by law. You will have the ability to opt-out of our marketing and promotional communications as described in the Opt out of marketing section below.
To display advertisements to you. If you use the free version of the App, we work with advertising partners to display advertisements within the App. These advertisements are delivered by our advertising partners and may be targeted based on your use of the App or your activity elsewhere online. To learn more about your choices in connection with advertisements, please see the section below titled "Targeted online advertising."
For compliance, fraud prevention, and safety. We may use your personal information and disclose it to law enforcement, government authorities, and private parties as we believe necessary or Appropriate to: (a) protect our, your or others' rights, privacy, safety or property (including by making and defending legal claims); (b) enforce the terms and conditions that govern the Service; and (c) protect, investigate and deter against fraudulent, harmful, unauthorized, unethical or illegal activity.
With your consent. In some cases, we may specifically ask for your consent to collect, use or share your personal information, such as when required by law.
To create anonymous, aggregated or de-identified data. We may create anonymous, aggregated or de-identified data from your personal information and other individuals whose personal information we collect. We make personal information into anonymous, aggregated or de-identified data by removing information that makes the data personally identifiable to you. We may use this anonymous, aggregated or de-identified data and share it with third parties for our lawful business purposes.
---
How We Share Your Personal Information
We do not disclose user photographs to third parties. We may share your non-photograph information in the following circumstances:
Affiliates. We may share App usage information with our subsidiaries and affiliates, for purposes consistent with this Privacy Policy.
Service providers. We may share your personal information with services providers that perform services on our behalf or help us operate the App (such as customer support, hosting, analytics, email delivery, marketing, and database management services). These third parties may use your personal information only as directed or authorized by us and in a manner consistent with this Privacy Policy, and are prohibited from using or disclosing your information for any other purpose.
Advertising partners. When we use third-party cookies and other tracking tools, our advertising partners may collect information from your device to help us analyze use of the Site and the App, display advertisements on the App and advertise the Site and App (and related content) elsewhere online.
Third-party platforms and social media networks. If you have enabled features or functionality that connect the App to a third-party platform or social media network (such as by logging into app using your account with the third-party, providing your API key or similar access token for the App to a third-party, or otherwise linking your account with the App to a third-party's services), we may disclose the personal information that you authorized us to share (such as when you elect to upload a photograph to your social media account). We do not control the third-party platforms' use of your personal information, which is governed by that third party's privacy policy and terms and conditions.
Professional advisors. We may disclose your personal information to professional advisors, such as lawyers, bankers, auditors and insurers, where necessary in the course of the professional services that they render to us.
For compliance, fraud prevention and safety. We may share your personal information for the compliance, fraud prevention and safety purposes described above.
Business transfers. We may sell, transfer or otherwise share some or all of our business or assets, including your personal information, in connection with a business transaction (or potential business transaction) such as a corporate divestiture, merger, consolidation, acquisition, reorganization or sale of assets, or in the event of bankruptcy or dissolution.
---
Compliance with Law
We may be required to use and share your personal information to comply with applicable laws, lawful requests, and legal process, such as to respond to subpoenas or requests from government authorities.
---
Your Choices
In this section, we describe the rights and choices available to all users. Users who are located within European can find additional information about their rights below.
Opt out of marketing communications and other push notifications. You may opt out of marketing-related communications and other notifications we may send you via push notification by changing the settings on your mobile device.
Device permissions. You may revoke any permissions you previously granted to us, such as permission to access your camera or camera roll, through the settings on your mobile device.
Cookies & Browser Web Storage. Most browsers let you remove or reject cookies. To do this, follow the instructions in your browser settings. Many browsers accept cookies by default until you change your settings. Please note that if you set your browser to disable cookies, the Site may not work properly. Similarly, your browser settings may allow you to clear your browser web storage.
Targeted online advertising. Some of the business partners that collect information about users' activities on or through the Site or App may be members of organizations or programs that provide choices to individuals regarding the use of their browsing behavior or mobile application usage for purposes of targeted advertising.
Site users may opt out of receiving targeted advertising on websites through members of the Network Advertising Initiative by clicking here or the Digital Advertising Alliance by clicking here. App users may opt out of receiving targeted advertising in mobile apps through participating members of the Digital Advertising Alliance by installing the AppChoices mobile app, available here, and selecting the user's choices. Please note that we also may work with companies that offer their own opt-out mechanisms and may not participate in the opt-out mechanisms that we linked above.
In addition, your mobile device settings may provide functionality to limit our, or our partners', ability to engage in ad tracking or targeted advertising using the Google Advertising ID or Apple ID for Advertising associated with your mobile device.
If you choose to opt-out of targeted advertisements, you will still see advertisements online but they may not be relevant to you. Even if you do choose to opt out, not all companies that serve online behavioral advertising are included in this list, so you may still receive some cookies and tailored advertisements from companies that are not listed.
Choosing not to share your personal information. Where we are required by law to collect your personal information, or where we need your personal information in order to provide the App to you, if you do not provide this information when requested (or you later ask to delete it), we may not be able to provide you with our services. We will tell you what information you must provide to use the App by designating it as required at the time of collection or through other appropriate means.
Third-party platforms or social media networks. If you choose to connect to the App via a third-party platform or social media network, such as by using Facebook login, you may have the ability to limit the information that we may obtain from the third-party at the time you login to the App using the third-party's authentication service or otherwise connect your account. Subsequently, you may be able to control your settings through the third-party's platform or service. For example, you may access and change your settings through the Facebook settings page for Apps and Websites. If you withdraw our ability to access certain information from a third-party platform or social media network, that choice will not apply to information that we have already received from that third party.
---
Mode and place of processing the Data
Methods of processing
The Data Controller processes the Data of Users in a proper manner and shall take appropriate security measures to prevent unauthorized access, disclosure, modification, or unauthorized destruction of the Data.
The Data processing is carried out using computers and/or IT enabled tools, following organizational procedures and modes strictly related to the purposes indicated. In addition to the Data Controller, in some cases, the Data may be accessible to certain types of persons in charge, involved with the operation of the site (administration, sales, marketing, legal, system administration) or external parties (such as third party technical service providers, mail carriers, hosting providers, IT companies, communications agencies) appointed, if necessary, as Data Processors by the Owner. The updated list of these parties may be requested from the Data Controller at any time.
Place
The Data is processed at the Data Controller's operating offices and in any other places where the parties involved with the processing are located. For further information, please contact the Data Controller.
Retention time
The Data is kept for the time necessary to provide the service requested by the User, or stated by the purposes outlined in this document, and the User can always request that the Data Controller suspend or remove the data.
---
Detailed information on the processing of Personal Data
Personal Data is collected for the following purposes and using the following services:
Access to third party services' accounts
This type of services allows this Application to access Data from your account on a third party service and perform actions with it.
These services are not activated automatically, but require explicit authorization by the User.
Access to the Facebook Account(This application)
This service allows this Application to connect with the User's account on the Facebook social network, provided by Facebook, Inc.
Permissions asked: Access Friend Lists, Birthday and Email.
Place of processing: US – Privacy Policy
Analytics
The services contained in this section enable the Owner to monitor and analyze web traffic and can be used to keep track of User behavior.
FACEBOOK ANALYTICS FOR APPS (FACEBOOK, INC.)
Facebook Analytics for Apps is an analytics service provided by Facebook, Inc.
Personal Data collected: Usage Data and various types of Data as specified in the privacy policy of the service.
Place of processing: US – Privacy Policy
GOOGLE ANALYTICS (GOOGLE INC.)
Google Analytics is a web analysis service provided by Google Inc. ("Google"). Google utilizes the Data collected to track and examine the use of this Application, to prepare reports on its activities and share them with other Google services.
Google may use the Data collected to contextualize and personalize the ads of its own advertising network.
Personal Data collected: Cookies and Usage Data.
Place of processing: US – Privacy Policy – Opt Out
TAPSTREAM (TAPSTREAM NETWORK INC.)
Tapstream is an analytics service provided by Tapstream Network Inc.
Personal Data collected: Cookies and Usage Data.
Place of processing: US – Privacy Policy – Opt Out
FACEBOOK ADS CONVERSION TRACKING (FACEBOOK, INC.)
Facebook Ads conversion tracking is an analytics service provided by Facebook, Inc. that connects data from the Facebook advertising network with actions performed on this Application.
Personal Data collected: Cookies and Usage Data.
Place of processing: US – Privacy Policy
Commercial affiliation
This type of services allows this Application to display advertisements for third party products or services. Ads can be displayed either as advertising links or as banners using various kinds of graphics.
Clicks on the icon or banner posted on the Application are tracked by the third-party services listed below, and are shared with this Application.
For details of which data are collected, please refer to the privacy policy of each service.
ITUNES AFFILIATION (APPLE INC.)
iTunes affiliation is a commercial affiliation service provided by Apple Inc.
Personal Data collected: Cookies and Usage Data.
Place of processing: US – Privacy Policy
Contacting the User
MAILING LIST OR NEWSLETTER (THIS APPLICATION)
By registering on the mailing list or for the newsletter, the User's email address will be added to the contact list of those who may receive email messages containing information of commercial or promotional nature concerning this Application. Your email address might also be added to this list as a result of signing up to this Application or after making a purchase.
Personal Data collected: Cookies, email address, first name and Usage Data.
Registration and authentication
By registering or authenticating, Users allow this Application to identify them and give them access to dedicated services.
Depending on what is described below, third parties may provide registration and authentication services. In this case, this Application will be able to access some Data, stored by these third party services, for registration or identification purposes.
FACEBOOK AUTHENTICATION (FACEBOOK, INC.)
Facebook Authentication is a registration and authentication service provided by Facebook, Inc. and is connected to the Facebook social network.
Personal Data collected: various types of Data as specified in the privacy policy of the service.
Place of processing: US – Privacy Policy
Remarketing and Behavioral Targeting
This type of services allows this Application and its partners to inform, optimize and serve advertising based on past use of this Application by the User.
This activity is performed by tracking Usage Data and by using Cookies, information that is transferred to the partners that manage the remarketing and behavioral targeting activity.
FACEBOOK REMARKETING (FACEBOOK, INC.)
Facebook Remarketing is a Remarketing and Behavioral Targeting service provided by Facebook, Inc. that connects the activity of this Application with the Facebook advertising network.
Personal Data collected: Cookies and Usage Data.
Place of processing: US – Privacy Policy
FACEBOOK CUSTOM AUDIENCE (FACEBOOK, INC.)
Facebook Custom Audience is a Remarketing and Behavioral Targeting service provided by Facebook, Inc. that connects the activity of this Application with the Facebook advertising network.
Personal Data collected: Cookies and email address.
Place of processing: US – Privacy Policy
---
Further information about Personal Data
Push notifications
This Application may send push notifications to the User.
---
Additional information about Data collection and processing
Legal action
The User's Personal Data may be used for legal purposes by the Data Controller, in Court or in the stages leading to possible legal action arising from improper use of this Application or the related services.
The User declares to be aware that the Data Controller may be required to reveal personal data upon request of public authorities.
Additional information about User's Personal Data
In addition to the information contained in this privacy policy, this Application may provide the User with additional and contextual information concerning particular services or the collection and processing of Personal Data upon request.
System logs and maintenance
For operation and maintenance purposes, this Application and any third party services may collect files that record interaction with this Application (System logs) or use for this purpose other Personal Data (such as IP Address).
Information not contained in this policy
More details concerning the collection or processing of Personal Data may be requested from the Data Controller at any time. Please see the contact information at the beginning of this document.
The rights of Users
Users have the right, at any time, to know whether their Personal Data has been stored and can consult the Data Controller to learn about their contents and origin, to verify their accuracy or to ask for them to be supplemented, cancelled, updated or corrected, or for their transformation into anonymous format or to block any data held in violation of the law, as well as to oppose their treatment for any and all legitimate reasons. Requests should be sent to the Data Controller at the contact information set out above.
This Application does not support "Do Not Track" requests.
To determine whether any of the third party services it uses honor the "Do Not Track" requests, please read their privacy policies.
Changes to this privacy policy
The Data Controller reserves the right to make changes to this privacy policy at any time by giving notice to its Users on this page. It is strongly recommended to check this page often, referring to the date of the last modification listed at the bottom. If a User objects to any of the changes to the Policy, the User must cease using this Application and can request that the Data Controller remove the Personal Data. Unless stated otherwise, the then-current privacy policy applies to all Personal Data the Data Controller has about Users.
Information about this privacy policy
The Data Controller is responsible for this privacy policy, prepared starting from the modules provided by Iubenda and hosted on Iubenda's servers.
Definitions and legal references
PERSONAL DATA (OR DATA)
Any information regarding a natural person, a legal person, an institution or an association, which is, or can be, identified, even indirectly, by reference to any other information, including a personal identification number.
USAGE DATA
Information collected automatically from this Application (or third party services employed in this Application), which can include: the IP addresses or domain names of the computers utilized by the Users who use this Application, the URI addresses (Uniform Resource Identifier), the time of the request, the method utilized to submit the request to the server, the size of the file received in response, the numerical code indicating the status of the server's answer (successful outcome, error, etc.), the country of origin, the features of the browser and the operating system utilized by the User, the various time details per visit (e.g., the time spent on each page within the Application) and the details about the path followed within the Application with special reference to the sequence of pages visited, and other parameters about the device operating system and/or the User's IT environment.
USER
The individual using this Application, which must coincide with or be authorized by the Data Subject, to whom the Personal Data refers.
DATA SUBJECT
The legal or natural person to whom the Personal Data refers.
DATA PROCESSOR (OR DATA SUPERVISOR)
The natural person, legal person, public administration or any other body, association or organization authorized by the Data Controller to process the Personal Data in compliance with this privacy policy.
DATA CONTROLLER (OR OWNER)
The natural person, legal person, public administration or any other body, association or organization with the right, also jointly with another Data Controller, to make decisions regarding the purposes, and the methods of processing of Personal Data and the means used, including the security measures concerning the operation and use of this Application. The Data Controller, unless otherwise specified, is the Owner of this Application.
THIS APPLICATION
The hardware or software tool by which the Personal Data of the User is collected.
COOKIES
Small piece of data stored in the User's device.
LEGAL INFORMATION
Notice to European Users: this privacy statement has been prepared in fulfillment of the obligations under Art. 10 of EC Directive n. 95/46/EC, and under the provisions of Directive 2002/58/EC, as revised by Directive 2009/136/EC, on the subject of Cookies.
This privacy policy relates solely to this Application.
Latest update: Nov 17, 2020